I hope you had a great weekend! Today we have another Misfits Market Meal Plan. In case you don't know, Misfits Market delivers organic produce straight to your door. Because they source produce that can't be sold at the supermarket due to "cosmetic imperfections," their produce is up to 40% off grocery store prices.
If you'd like to try out Misfits Market, you can use my referral code to get 25% off your first box: COOKWME-QQ0EFF.
In this week's box, I received:
1 small butternut squash
2 large pieces of ginger
8 limes
4 nectarines
5 tomatillos
2 beets
1 jicama
6 apples
2 grapefruit
4 mango
17 fingerling potatoes
8 jalapeno peppers
This was our first Misfits Box that didn't contain any onions, so we did buy some from the grocery store, as well as some cilantro.
Snacks
The nectarines, apples, and grapefruit were corralled to a bowl for easy afternoon snacks and lunch sides.
Monday Dinner | Thai Panang Curry

On Monday, I made vegan Instant Pot Thai Panang Curry. Panang curry in all forms is always a huge hit at our house. For this version, I used cubed acorn squash and 2 bunches of kale (from last week's box) and cooked it on high pressure for 6 minutes. After it finished cooking, I added in some slices of a fresh mango. Delicious!
Tuesday Dinner | Gaby's Asian Chicken Slaw
This is my favorite way to use purple cabbage! As Gabby very accurately explains: "Here's the deal with Asian Slaw. It's awesome. Epic. So good you'll want to lick the bottom of the bowl just to make sure that every last bit of goodness has been consumed and none is left to waste." Since we didn't have red peppers, we through in mangoes instead and it was fantastic!
Wednesday Dinner | Carnitas Tacos with Tomatillo Salsa
I was so excited to get tomatillos in this week's box, because it gave me a fabulous reason to make carnitas tacos and tomatillo salsa! I always wing my carnitas and I use the Instant pot tomatillo salsa recipe from this amazing cookbook — but this recipe from is very similar.
Thursday Dinner | Ginger Beet Soup
I had a bunch of pork broth leftover from making the carnitas, so I whipped up a ginger beet soup that was dead easy. I simply sauteed onions in butter, olive oil and lime zest in my Instant Pot; added cubed beet and a generous amount of ginger; covered it with pork broth and cooked in on high pressure for 30 minutes. After releasing the pressure, I pureed it in my Vitamix and salted to taste. Delicious, easy cooking. I served it with a side of roasted fingerling potatoes.
Friday Dinner | Beet Soup with Chili-Lime Jicama Sticks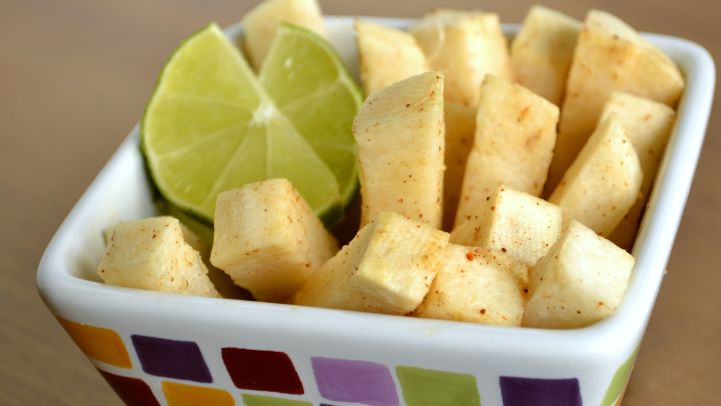 My family loved the beet soup so much that we ate it again the next day, but this time with a side chili-lime jicama sticks. I thought the season jicama sticks were actually really good, and my toddler ate his, but full disclosure — my husband did not care for this recipe.
Saturday Night | Leftovers
I love leftovers night — less cooking, less dishes, and easy on the wallet.
Sunday Night | Pizza and Fruit Salad
To finish out the week, my husband made a delicious homemade pizza with a side of fruit salad from our mangoes and nectarines.
What did you make from this week's Misfits box? Let me know in the comments below!
If you'd like to try out Misfits Market, you can use my referral code to get 25% off your first box: COOKWME-QQ0EFF.
Thank you so much for reading!